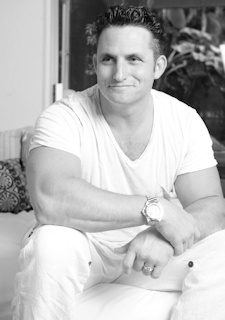 Circle Of Life at TreeTops Lodge with
Jason Katz
Jason Katz brings with him more than twenty years of education and training in the healthcare and fitness industry. His desire to enrich the lives of others in a hands-on way has led to his extraordinary track record of success serving in the U.S. Air Force Special Forces Unit, as a law enforcement officer and medic/fire fighter. While in the military, Jason embarked on a tour of duty in the Gulf War and sustained injuries making him a disabled veteran. However, Jason's exceptional tenacity and profound passion for health and fitness drove his appetite for success and he went on to achieve the body building title of Mr. Florida All-Natural in 1997.

Jason holds a Bachelor of Science degree in Criminal Justice from Florida International University. His rich history of public service combined with his diverse education prepared Jason for a lifelong career in the health and fitness field. Jason is a Master Instructor Trainer, certified licensed Nutritionist, rehab specialist, masseur and mediator. It is in the fitness arena where Jason has made the most impact, continuing to enhance the lives of thousands of clients who are guided by his unique, holistic approach to fitness training. Jason loves helping anyone who truly wants to learn how to help themselves. Which will enrich the lives of everyone.

Jason's business background includes the ownership of two fitness companies. The Circle of Life Fitness, Inc. and The Absolute Evolution, Inc. have been transforming bodies, minds and spirits for over 20 years with their diverse range of services, including personal fitness and nutrition instruction, post rehabilitation training, life coaching and motivational speaking. The Circle of Lifesaving, Inc. has certified thousands of people in CPR/AED, infant and adult choking, OSHA HIV/blood borne pathogens training, basic first aid, water safety and swim instruction.

Jason's career is founded on the principle that healthy lifestyle choices can help to heal serious health problems, including depression, diabetes, disease and obesity, which continue to increase at alarming rates. Due to Jason's recognition that these health issues are especially prevalent in underprivileged communities, where resources are difficult to attain, there is a strong need for health and fitness education and this has become his focus. Upon embracing this need, in 2011 Jason began conducting seminars and workshops in local community and civic centers. The positive results highlighted a community-wide need and thus C.H.O.I.C.E. Foundation was formed. Through seminars and workshops Jason continues to help to diminish the incidence of these health risks by encouraging people to make better choices every day that will lead to a healthier and more productive life, improving how they think, feel, act and look.

C.H.O.I.C.E. is a federally recognized, 501(c) (3) organization that aims to reduce and prevent unhealthy habits and disease by inspiring, nurturing and educating children and families to make healthy choices and encouraging respect for the body, mind and spirit. Jason has proven to the families and peers alike that individuals thrive under his positive guidance. As Founder and Executive Director, Jason is committed to creating a community of healthy children and families who positively impact the lives of others due to his endless positive motivation. Jason resides in Hollywood, Florida with his wife and two young sons.