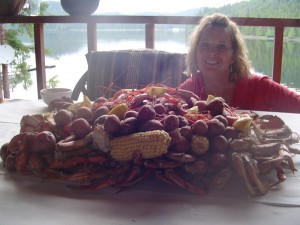 Dining
A hearty breakfast is the perfect daily start to your great Alaskan adventure. This includes your choice of hot breakfast meats, eggs, hashbrowns, pancakes, a variety of hot/cold cereals, coffee and a selection of teas and juices are always available. Your cook staff is always available to take requests.
A wonderful lunch will be served onboard by your guide. Lunch includes a delicious assortment of sandwiches, chips, fresh vegetables, fruits and homemade goodies. Whether it be cookies, brownies, or homemade sweet breads.
Dinner at Tree Tops Lodge is an event in and of itself!  After a memory-filled day on the water or wherever your excursions may have led you, we look forward to hearing about your adventures of the day.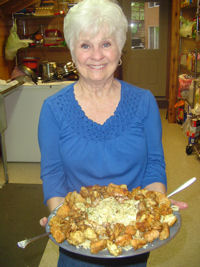 You will enjoy appetizers such as our famous crab and artichoke dip, salmon croquettes and shrimp cocktail, just to name a few.  After enjoying appetizers and cocktails, we move on to the main coarse.  Fried halibut is one of many specialties our cook prepares for your enjoyment.  Grilled salmon and shrimp, blackened red snapper and other Alaskan seafoods to entice your tastebuds.  To round out your meal, various side dishes will be served.  Salads, homemade breads and beautiful desserts made fresh daily.
If any special dietary needs are necessary, please let us know prior to arrival.